Celebrities are rushing into the burgeoning non-fungible token (NFT) arena, whether they're selling their own NFTs or spending millions of dollars collecting from the most popular sets.
Kanye West, the American rapper-turned-fashion designer, is not one of them. Mr. West recently begged his supporters to stop asking him about NFTs in an Instagram post, stating that he is only interested in making actual items in the real world.
The flamboyant singer sent a handwritten statement on a piece of paper with his 10.5 million Instagram followers, expressing his displeasure with being asked to participate in the NFT frenzy.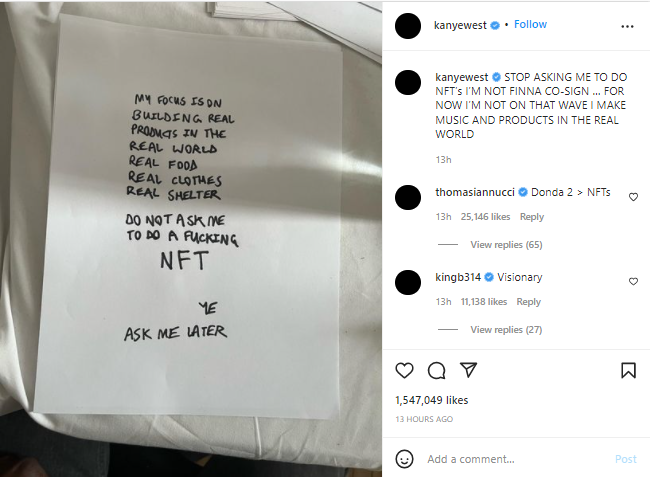 Non-fungible tokens are cryptographic assets that incorporate digital media identifiers stored in smart contracts. Stars and celebrities ranging from Snoop Dogg to Justin Bieber, Grimes, Kings of Leon, Eminem, The Weeknd, and Jimmy Fallon are riding the wave of interest for NFTs.
Kanye West, on the other hand, isn't planning on adopting the trend anytime soon. He does, however, appear open to further research into NFTs in the future, finishing his message with the phrase "Ask me later."
Ye, whose Donda 2 album is due out on February 22, is a strong supporter of bitcoin. In a podcast discussion with Joe Rogan in 2020, he praised Bitcoin developers for recognizing what true liberty for America and humanity will entail.