3 Factors of Bitcoin Price over the past years.
1. The News Factor
Over the past years have been demonstrated that bitcoin price is highly impacted by the news of the top enterprises and famous speakers such as Elon Musk ( Tesla CEO ) , Jack ( Twitter Ceo ). But there is also an important note to take in consideration and is that sometimes News are manipulated and can drive the price to go down or up to benefit big institutions. There is two famous sentiment on the crypto market:
FUD: Fear, uncertainty, and doubt is a propaganda tactic used in sales, marketing, public relations, politics, polling and cults. FUD is generally a strategy to influence perception by disseminating negative and dubious or false information and a manifestation of the appeal to fear.
Bullish Sentiment: hopeful or confident that something or someone will be successful : optimistic about the future of something or someone. : expecting the price of stocks to go up : characterized by rising crypto prices
The bulls have strong faith that Bitcoin will go UP, the bears have a strong faith that bitcoin will go down.
2. Technical Crypto Analysis ( Charts )
Technical analysis involves using real-world data to try to predict the future of the market. It involves looking at past statistics of the cryptocurrencies in question, including factors like volume and movement. Another common method, the fundamental analysis would be evaluating the cryptocurrency's inherent value.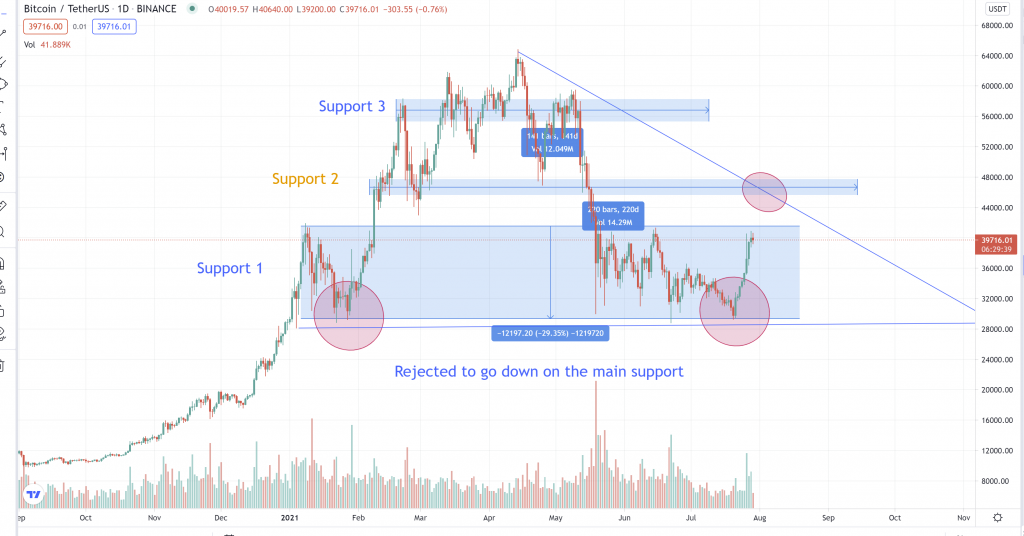 As you can see on the chart we are based on the supports, if support 1 breaks down, we will go to support 0 which is the support under base levels, which will turn the market into a really bear market. So where do you buy? You should look at the charts, cryptocurrency news, trends, and if everything matches and support 1 rejects, then buy because is more likely to go up again, if support 1 rejects is more likely to go down.
The importance of resistances and supports " Take Profits on the way up" support 2 would be a important take profit, followed by support 3 as last.
3. Market capitalization / Bitcoin dominance
Every crypto has a total supply in circulation, market capitalization max supply, some of them has unlimited supply ( which you should run of.. )
Total supply in circulation: Is the amount of tokens that are in circulation, you can check on coinmarketcap.com

Market Cap or market capitalization: is the amount of money that is inside this crypto, this is what is the price based on. To keep it simple if you divide the Circulating supply/Market Cap = Live price on ( USD ) please see the image below.

Max amount of supply: the maximum supply of a crypto is equal to the maximum number of coins or tokens that will be ever created. This means that once the maximum supply is reached, there won't be any new coins mined, minted or produced in any other way.
Important tips when buying or selling:
Now that we have all the basic knowledge we will be able to understand and emphasise more with the market.
Always buy when the price touch a solid support on the way down.
Take on consideration the maximum supply of every crypto to avoid losses, perhaps if a crypto that you buy is 50$ but has 20 million circulating supply. And in 1 year will have 200 million circulation supply is more likely to be way down than this 50$, always consider the price and maximum amount of total supply to avoid potential losses.
Not mandatory, but has been proof that holding a coin for more than 3 years has been profitable so far, but as every scenario is different; if you are selling, make sure to sell on targets so you can benefit as much as possible of the bull market.
Never give your private keys to anyone, protect yourself. Try to use as much decentralized exchanges as possible, where you are the only responsible of your cryptos.
Next topic:
Cryptocurrency news
Ethereum news
Top cryptocurrency to invest in 2021