From January 2022 to May 2022, the amount of Bitcoin sitting on exchanges declined for both Coinbase and Binance, until Binance's exchange balance dramatically flipped and started to rise. Even while both the total and Coinbase exchange balances are decreasing, it is still increasing.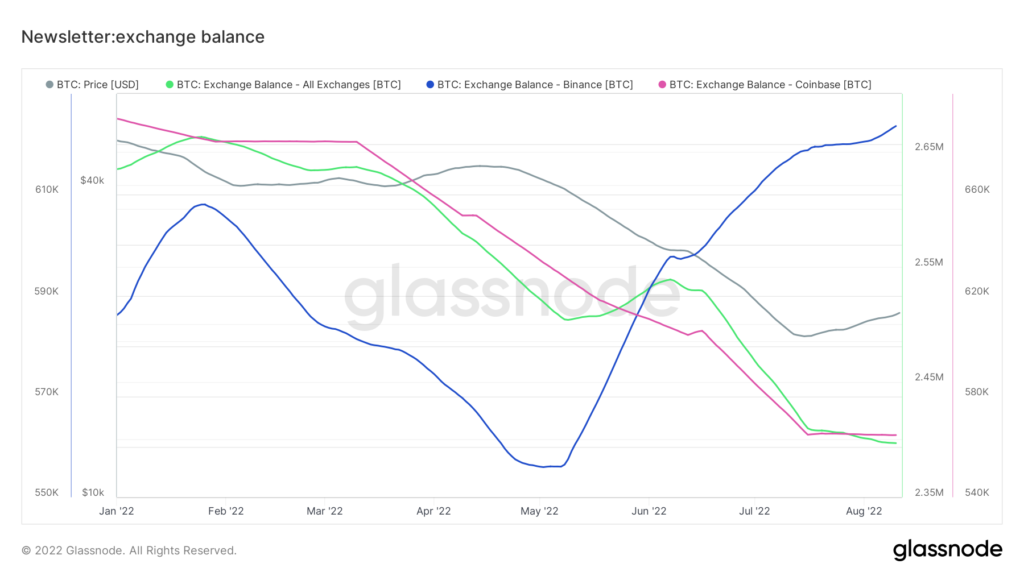 The graph illustrates the cumulative Bitcoin exchange balance, the BTC price, and the Binance and Coinbase exchange balances.
Since February, the cumulative exchange balance is shown as a steeply descending green line. Beginning of the year, there were around 2.6 million Bitcoins on exchanges. This is a net loss of 200,000 Bitcoins.
This shows that Bitcoin supply has been eliminated off exchanges, signaling a long-term bullish trend for holding.
The overall balance of Coinbase has followed a consistent path. At the beginning of the year, the exchange held around 690,000 Bitcoins, but in eight months, that number fell below 560,000.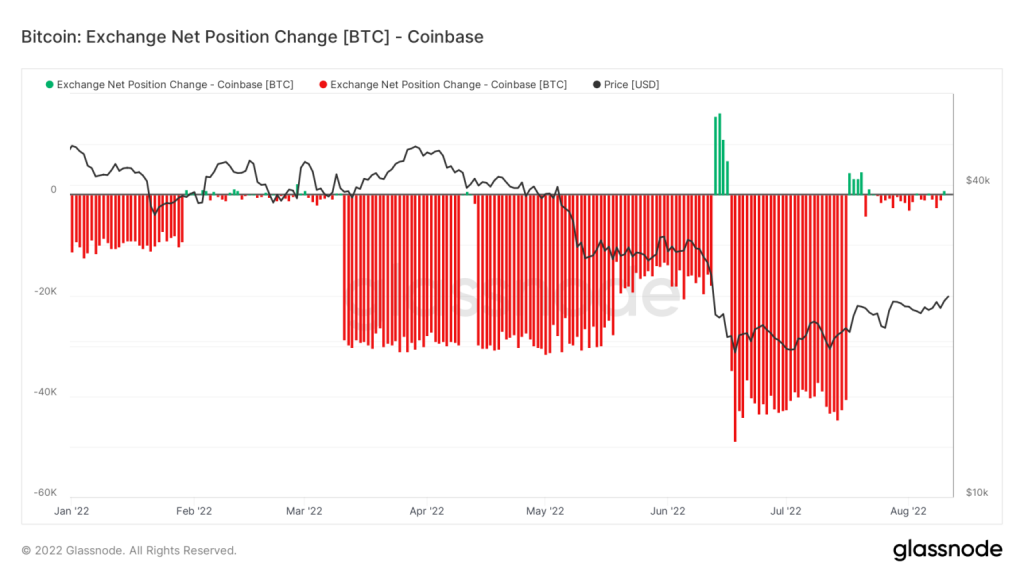 The graph above displays the fluctuation of currencies on Coinbase. The red lines indicate Bitcoins leaving the exchange, while the green lines indicate Bitcoins entering the exchange. Since the start of the year, Coinbase has removed a substantial amount of Bitcoin. In addition, the amount withdrawn increased between March and July.
These transactions may have been impacted by the fact that US institutions favor Coinbase. In a down market, institutions are more inclined to purchase and hold, which may explain why they withdrew Bitcoins from Coinbase.
Despite beginning the year in the same bear market as January, Binance ended the month with more Bitcoins than in January. The exchange started the year with 586 thousand Bitcoins, fell below 560,000 until May, and ended with 623 thousand Bitcoins.
Recent news articles indicate that Binance and Coinbase approach the winter market differently. While Binance continues to prioritize its customers despite the severe winter conditions, Coinbase is grappling with layoffs, litigation, and bankruptcy rumors.