According to data provided by Solana, a misconfigured node was the cause of the Solana network going offline. And stopping the processing of transactions on Friday.
This was the popular blockchain's fourth major outage since January when it experienced a series of partial outages for the majority of that month.
September was not a very pleasant month for Solana in a way. Also having a solid week was Solana. It was able to break out of the crucial support level at $30 after putting that level to the test the previous week. Since then, SOL has been successful in recording a price gain of 5.8%. This makes it the top performer on our list at the present time.
In the event that this trend continues, SOL will run into opposition at around $38. This is the next important level to keep an eye on. On September 12th, the pricing was promptly rejected after being examined for the final time. This line was tested that day. It is necessary for Solana's purchase volume to improve. That is if the company is going to have any chance of successfully breaching higher.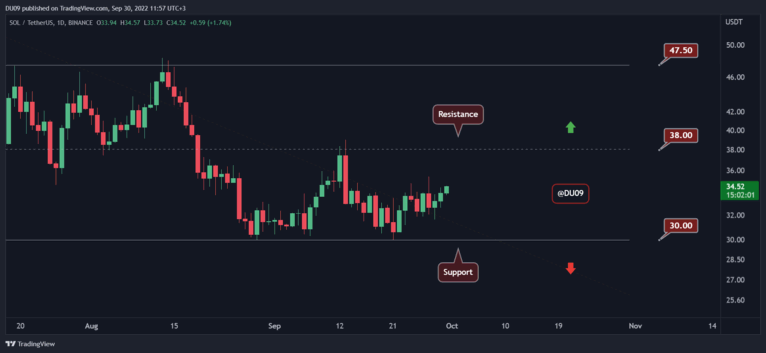 On its one-day chart, the alternative cryptocurrency has shown increased selling power. Despite the price increases over the last several days. Solana has not seen a significant uptick in the number of purchasers.
Additionally, this indicated that demand has existed, although at lesser levels. The Relative Strength Index showed an increase, and the indicator was located on the half-line. This indicated that the number of buyers and sellers was almost equal.
Nevertheless, other signs were congruent with the robustness of the selling shown on the chart.
Helium Moves to Solana Blockchain
Following a vote by the community on a proposed change, the crypto-powered wireless network Helium will formally switch from using its own blockchain to using Solana's blockchain. In the end, more than 81% of the votes that were based on tokens were cast in support of the migration.
According to the developers, the benefits of the move would include an increase in the amount of its native token HNT that is available to subDAO reward pools. Increased mining consistency, improved data transfer reliability, increased utility for both HNT and subDAO tokens, and increased ecosystem support.
Solana is well recognized as a significant location for the development of decentralized apps. When vote transactions are taken into consideration, Solana's daily transactions have increased from about 100 million to 200 million per day.
Beginning in May of this year, the number of users of the blockchain rapidly rose to surpass 1 million. The creators of Helium suggested making the switch since Solana has the potential to increase the operational efficiency as well as the scalability of projects.
According to Haleem, the Nova Labs team — which represents the founders of and core contributors to the decentralized Helium network — has already been working on the off-chain oracles to enable the new Solana-driven design.
The founders and core donors to the decentralized Helium network are known as Helium Core Contributors. In difference, he said that the work that will be done on the chain in the future. Such as the minting and redemption of tokens would be "quite a lot simpler."