In spite of the fact that the vast majority of digital assets currently being traded on the cryptocurrency market are in the red, the brief increase that took place earlier in the week prompted a significant number of Bitcoin (BTC) miners to take advantage of the opportunity to make a profit for themselves.
BTC miners did, in fact, sell 5,925 BTC over the course of the previous two weeks, as shown by the data that cryptocurrency trading expert Ali Martinez obtained from the on-chain analytics website CryptoQuant and shared on his Twitter account on August 19th.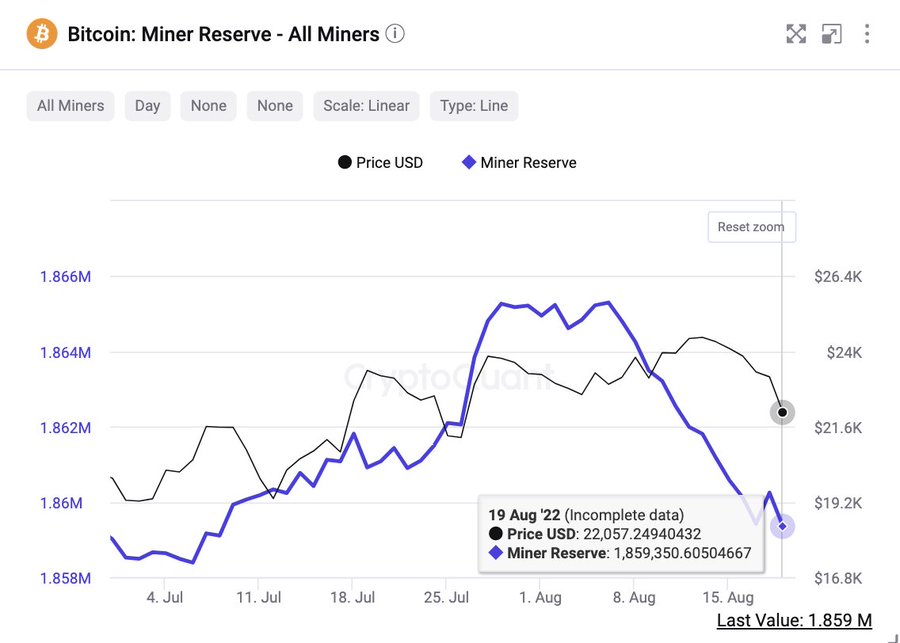 The profitability of mining Bitcoin has decreased to a level that is much lower when compared to its previous all-time highs. In spite of this, when the earnings from July are included in, August brought in a much greater total for the miners.
The month of June continues to hold the number one spot in this ranking. The continuance of its already-established notion could make it simpler for the king currency to scale the new heights it reached in June.
It just so happens that the most recent spike in miner selling occurred just after the little price increase that had been reported on August 15 and had been going on for the previous two months.
This took place despite the fact that cryptocurrency trading expert Michael van de Poppe did not consider a short-term price correction to be particularly alarming at the time it had a place.
At the time that this article was written, the price of Bitcoin was trading at $21,460, according to data that was given by CoinMarketCap. This figure represents a reduction of 8.6% on the day and 10.55% over the course of the seven days prior to this point in time. The most valuable cryptocurrency by market capitalization as of right now is bitcoin, which has a total of $410.4 billion.