Twitter CEO, Jack Dorsey, just announced that he will be resigning from Twitter, effective immediately. He posted on the platform a statement concerning the resignation, saying he felt that it was finally the time for him to leave. He believes that he believes the company is ready to move on from its founders and that it is a crucial part of a company's growth. This comes in after shares of Twitter went down about half percent a few hours ago.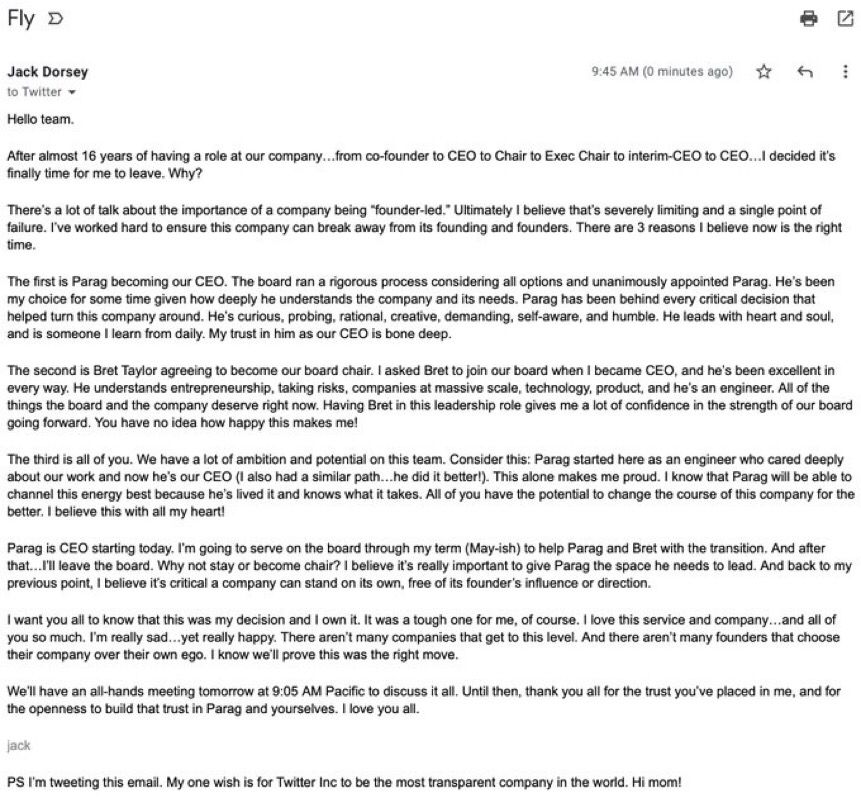 Parag Agrawal, Twitter's chief technology officer, will be taking over from Dorsey as the new CEO. Agrawal has been with Twitter for more than a decade and has been serving as chief technology officer (CTO) for the past four years. Dorsey said that the new CEO was chosen because of how deeply he understands the company and its needs. He also added that he has always been the choice.
Dorsey had been serving as both the CEO of Twitter and the financial services and digital payments company, Square. He is going to keep being the CEO of Square, which has a market capitalization of over $98 billion compared to Twitter's $38 billion.
Dorsey almost got deposed last year when one of the company's shareholders, the founder of Elliot Management, Paul Singer, publicly called him out for running Twitter and Square at the same time. He eventually made peace with Singer by giving him and its ally, the private equity firm, Silver Lake, seats on the company's board.
Ultimately, the arrangement proved to be temporary, and given the sizes of both companies, it is clear to see why Dorsey would choose Square over Twitter, even though he still holds the company very near and dear to his heart.